Does your group want to come visit Deal's Orchard?  We regularly give school tours, bus tours, and have hosted family reunions and corporate events.  You can also schedule a time for your group to come out and have a corn maze party after dark.  Have something else in mind?  Give us a ring and we'll see what we can do! Contact us at events@dealsorchard.com for availability.
[Apple Acres Family Fun Zone is seasonal and not available during the months of December – July]
The best time to tour the orchard is during peak harvest season in September and October. School children like to come on the days when we make apple cider. We run the cider press on Monday, Thursday, and Saturday mornings.  We have three different tours to choose from.  Each tour lasts approximately 90 minutes.

Apple-Pickin' School Tour:  $5.00 per student
Orchard history
Information about what we grow
Picking
Sorting & storage of apples
Making and jugging apple cider
Retailing
Observation bee hive
We send cider and apple samples back to the classroom, along with a small souvenir. Each child also gets to pick an apple out in the orchard to eat during the tour.
Apple Acres School Tour:  $7.00 per student
Apple-Pickin' tour plus… time to play in Apple Acres (supervised by teachers and chaperones)
Hayride-Pumpkin School Tour:  $7.00 per student
Apple-Pickin' tour plus… pick your own pumpkin!
Hayride-Pumpkin-Apple Acres School Tour:  $9.00 per student
The popular all three combo… Apple-Pickin' tour plus pick your own pumpkin AND time to play in Apple Acres (supervised by teachers and chaperones)
Several tour buses stop at the orchard each fall. We have a step-on tour guide for a 15 minute "road trip." Then we have a short tour of the packing shed, cider room, sales room, and gift shop. Guests are then served homemade apple pie or apple dumplings with ice cream. Drinks include coffee or apple cider. After the snack, there is always time to shop before boarding the bus. Each guest leaves with a souvenir, an apple, and a smile.
| | | |
| --- | --- | --- |
| COST: | For Dessert Tour: | $7.00 / person |
|   | For Donut / Coffee Tour: | $4.00 / person |
If you are interested in planning a tour that includes other attractions in our area, our local chamber will be happy coordinate that with you.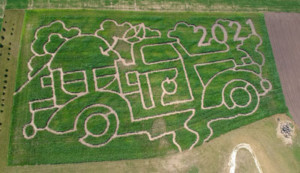 Have an a-MAZE-ingly good time in our 5 acre corn maze with your church group, boy scout troop, or friends!  Book a party after hours and do the maze by flashlight.
Cost: $5.00/person [After Hours Corn Maze ONLY.  Apple Acres entertainment not included]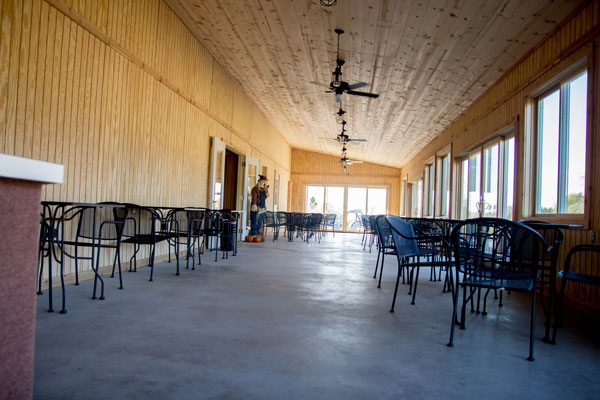 Deal's Orchard has a room that seats 60 and is available to rent for $200 for 3 hours.
[Please note- if rental is during our business hours, the bathrooms in the space may be used by Deal's Orchard customers.  The rental fee is only for the room; any additional activities or food are not included.  The room is not available for rent the 1st, 2nd, or 3rd weekends in October.  Ask about kitchen availability during weekday events for an additional fee.]
Contact us at events@dealsorchard.com for more information and availability.
$30 Rental fee for up to 3 hours
You provide your own food & roasting sticks.
Apple Acres/Corn Maze Package
-Reserved outdoor table ($25)
-Entrance to Apple Acres/Corn Maze: $8/child, $6/adult (2yrs.& under: free / over 65yrs: free)
-Birthday Child is FREE
-Hayride
-Optional:  Add Meal (hotdog, chips, drink) – $4.75/person
NO parties Fall Festival Weekend (2nd full weekend in October)