We are a family run apple orchard located in Jefferson, Iowa. Deal's Orchard has 45 acres of apple trees with over 25 varieties of apples in our orchards.  You can find Deal's Orchard apples, cider, and hard cider in many central Iowa grocery stores.  We also sell tomatoes, sweet corn, pumpkins, holiday gift baskets, homemade pies, honey, and other seasonal fruits and vegetables in our Apple Barn.
In the fall, we invite you to come and enjoy our family fun zone, Apple Acres, which has fun activities for the entire family. You'll love our jumping pillow, giant slides, human hamster wheel, corn pool, pedal tractors, goat run and MORE!  You can also try to navigate your way through our corn maze, and enjoy free weekend hayrack rides through our orchard and pumpkin patch.
In November, our Apple Barn becomes a winter wonderland as we gear up for the Christmas season.  Visit our Tree Farm and make memories finding and cutting your own Christmas Tree.
We hope you make a trip out to see us soon. You won't be disappointed.
Deal's Orchard has a rich history, dating back 100 years.  It was started by Frank Deal as a part-time hobby in 1917. When Frank moved from Illinois he and his sons Forrest and Lynn planted 16 acres in apple trees, adding to a small orchard that was already there.
The 1940 Armistice Day freeze completely wiped out all of the private orchards in the area, and the Deal orchards, as well. Only a few trees survived the freeze. Lynn and Forrest pulled out the dead trees with horses and replanted, expanding the orchard slightly in 1941. In the late 1950's, Lynn left the partnership to pursue other farming interests. Frank remained in the partnership until the mid-1960's, when Forrest and his wife, Edna, took over the business.
Jerald Deal, the only son of Forrest and Edna, joined in partnership with his father in 1974. Jerald is a 1973 graduate of Iowa State University, but says he learned most of what he knows about growing apples from his dad and grandpa. Cindy Deal, Jerald's wife, has a degree in elementary education from ISU and taught first grade for three years in Jefferson before staying home to help with the family business in 1976.
Today, Jerald and Cindy still own the family operation and their sons are now actively involved as well.   Under the direction of Jerald and Cindy, Deal's Orchard has grown from a fruit farm into a destination for fall family fun.  The addition of agri-entertainment activities brings families from all over the state to visit Deal's Orchard in the fall and make memories on our farm.
Deal's Orchard Apple Cider has been named one of the best in the state and the annual Fall Festival attracts thousands of visitors.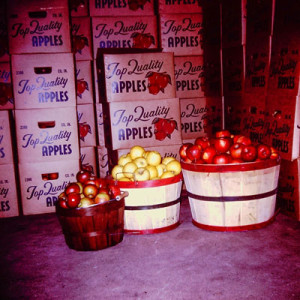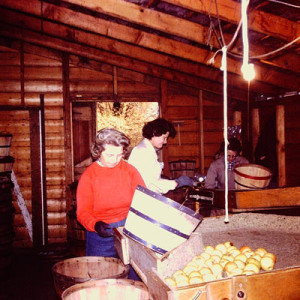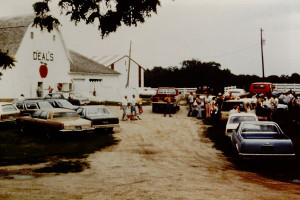 Deal's Orchard Original Apple Barn
(Sept 1975)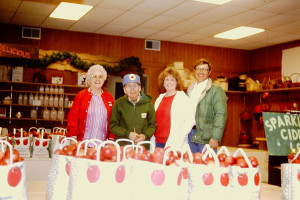 Edna, Forrest, Cindy & Jerald Deal
(Dec 1985)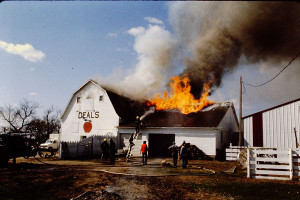 Apple Barn Fire
(April 22, 1982)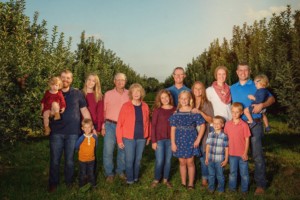 The Deal Family
2019