Barn with Pumpkins
cdeal
2022-05-04T19:28:48+00:00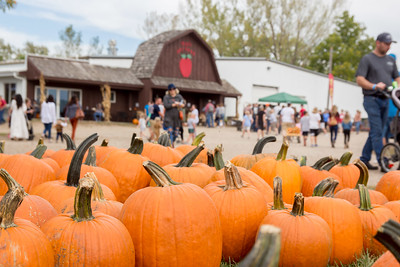 We have something for everyone; from a jumping pillow, slides and corn maze to live music, hard cider, hayrides, and pumpkin patch.
Week days are a great time to visit. Most of our attractions are available during the week and guests enjoy the classic fall experience without weekend crowds.
Apple Acres opens at the end of August and closes the first weekend in November. We are open daily in the fall (weather permitting).
How much does it cost to get in?
cdeal
2022-09-07T13:47:17+00:00
There is no admission charge to visit the Apple Barn, the pumpkin patch, listen to live music, or to go on a weekend hayride. If you'd like to enter Apple Acres (zinnias, jumping pillow, giant slides, corn pool, corn maze, etc.) there is an admission charge for those ages 3-64.  Check here for prices and information on Apple Acres.
Our Christmas Tree farm opens in November. Guests can cut their own tree or pick from one of our pre-cut trees. Find more information about variety and prices here.
The Apple Barn opens for the year when sweet corn is ready, typically in early July. Other seasonal produce includes tomatoes, cucumbers, onions, zucchini and peppers. You can also find our produce at the Ames Main Street, Carroll, and Greene County Farmer's Markets.
WHY VISIT DEAL'S?
Hear what our guests have to say
"

Best orchard in Iowa. My favorite fall destination.
"

So many things for kids to do, such a fun and neat place. Enjoyed our 1st time so much we'll definitely be back!
"

Entertainment for young and old. Great apple cider donuts and hard cider, caramel apples and so much more. Great play area for the kids and sunflower fields.
"

Everything about our visit was so pleasant! We enjoyed all the creative & fun outdoor shenanigans available! The corn box, oversized trikes, the slide with saucers, the helpful staff, ALL of our day at the orchard was a bright memory! Thanks!